About Us
The Albuquerque Concert Band is an all-volunteer ensemble of adult musicians rehearsing and performing throughout the year. In existence for over forty years, the band has been enriching the culture of the Albuquerque community in performance of the great heritage of band music. Over eighty players of a wide range of age and ability meet each week and represent an enormous variety of backgrounds with vocations ranging from music educator to engineer, from doctor to lawyer.

During the summer season the band is sponsored by the City of Albuquerque and presents concerts on the East lawn of the Albuquerque International Balloon Museum giving families the opportunity to enjoy an evening of wonderful music in a fun and casual setting. The ensemble continues through the Fall/Winter/Spring presenting a full formal concert on the first Sunday of each month October through April.
Our Conductor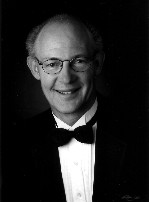 John Sanks
John Sanks has been involved in the community band scene since 1970 and has been a member of the Albuquerque Concert Band for over thirty years. He has previously been a member of community bands in Montana, Nevada, New Mexico and Virginia. He assumed the podium as conductor of the Albuquerque Concert Band in 1998.
Mr. Sanks holds a BA in Music Education from Montana State University. He recently retired from teaching where he was the director of the award winning Eldorado High School band where his marching band, wind ensemble, and jazz band were top performers at competitions. He has been the director of the Albuquerque Jazz Orchestra and is active as a performer, adjudicator, and clinician throughout the region.
Mayor Chavez expresses his appreciation to the Albuquerque Concert Band
In the Summer of 2009, the band performed at the dedication of Harry Kinney Plaza (formerly Civic Plaza) and Mayor Martin Chavez sent a letter to the band to express his gratitude:
"I would like to thank the Albuquerque Concert Band and all of its members for their dedication to music in Albuquerque.
...
The music of the band helped to honor Mayor Kinney's life of public service and dedication to Albuquerque. I look forward to future performances and to all the children and adults you inspire to pursue their musical dreams."

Mayor Martin Chavez